Bitcoin EXPLODES Past $5000 and Beyond: Everything You Need to Know to Start Trading
Late to the Bitcoin party? Worry not, you're in good hands.
Unless you've been living under a rock, you know that cryptocurrency is currently one of the hottest topics. Indeed, it's one of the most searched for terms in Google over the summer, and continues to gain in mainstream popularity. Bitcoin in particular is heading the charge.
As of this week, Bitcoin broke into the $5000 range and has since gained value far quicker than most expected. If you're new to crypto and are looking for a way in, look no further. This isn't going to be a long and complex analysis of the market or a tome on how to micro-trade and quit your day job. This is just going to be a quick look at how to jump into Bitcoin if you are unsure when and how to do it.
When Should I Jump Into Bitcoin?
Now. Right now. Stop reading this. Just do it.
…
…
…
I'm just kidding. Kind of.
Ordinarily, my advice for people is to just dive into crypto. If you wait for a lull or until you have more money or until "the market is more stable," you're going to miss the wave. However, at this moment in time, Bitcoin is crazy high. As of writing this sentence, it's past $5600, and it didn't get there slowly either. This is the product of new blood coming into the pool, which means almost assuredly, this number will be going down a bit real soon. Expect Bitcoin to level out at about $4900 – $5100 sometime next week. This is when you should buy back in. It may even go lower than that depending on how scared new traders get at the prospect of seeing their first dip.
If you are already holding Bitcoin, I wouldn't sell it just yet. Bitcoin has proven time and time again that it's going to keep going higher and higher. Regardless of what China is doing, regardless of what banker blowhards say on the news, regardless of world events, it just keeps going up. It doens't look like anything will stop it anytime soon, either. Pump on the dips and HODL until you make a juicy profit.
How to Purchase Bitcoin For the First Time
Completely new to the Bitcoin world and don't quite know where to go to take the plunge? There are message boards galore pointing you in a million different directions, and I understand it can be hard when first starting out. My advice is, start simple. You can always take advantage of more high end and complex services down the road. You don't want to waste time trying to learn some convoluted underground crypto trading black market system when all you want to do is take advantage of the wave.
If you're looking for a simple, newbie friendly way to get into Bitcoin, look no further than Coinbase. There are mixed opinions about Coinbase on the web, but these are technical preferences and tastes. It's a great platform, it's easy to use, and it gets the job done. End of story.
If you want a comprehensive guide on purchasing Bitcoin on Coinbase, I would suggest checking this one out:
I wrote it for the sake of purchasing EvergreenCoin (another cryptocurrency you probably have never heard of), but the first steps require you to purchase Bitcoin using Coinbase. If you're looking for an easy-to-follow, newbie-proof guide, that's what you want to check out.
Here's a quick run down of the process as featured on Coinbase's own website: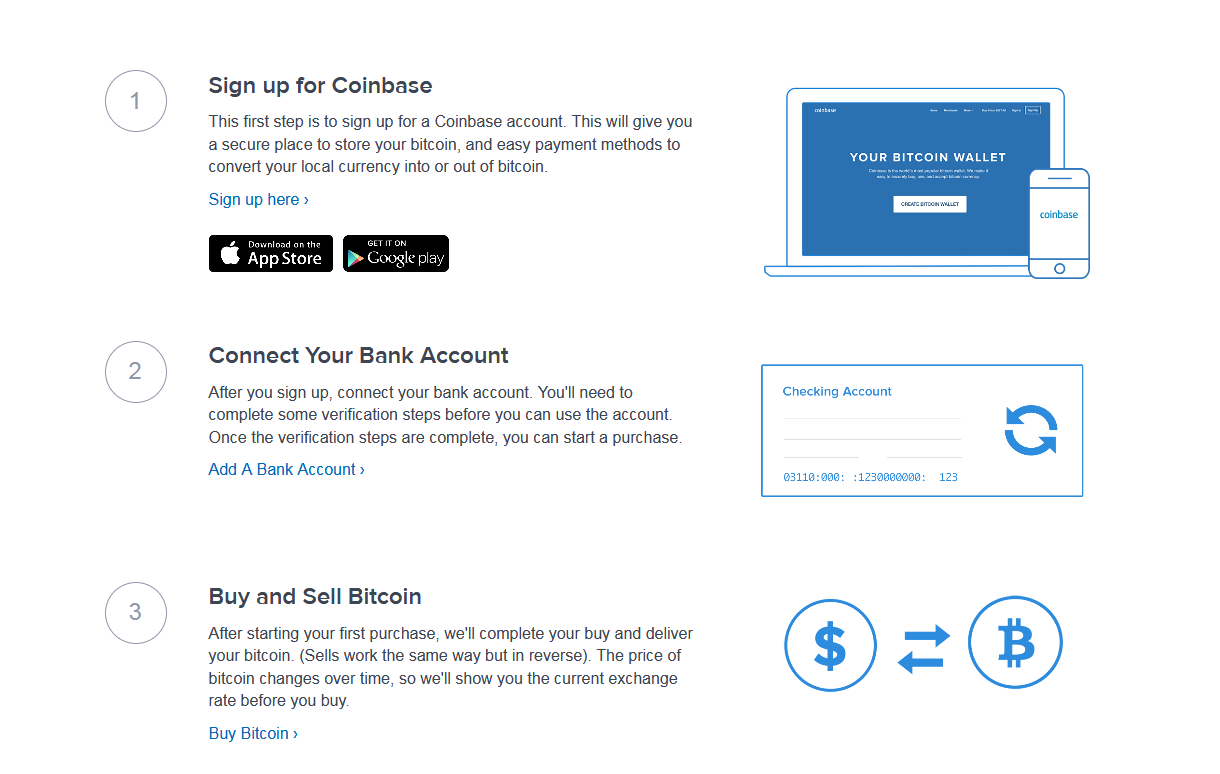 It's really that easy. On message boards on crypto you would come away with the idea that buying and trading crypto is like some kind of arcane science only the elite few have any comprehension of, but it's easier than ever to get into Bitcoin and crypto in general. Follow the steps above or in this guide on buying crypto, and you can't go wrong.
If you want the guide in a handy slideshow format, check it out here.

Looking for more information on what to do with your Bitcoin? Follow me on Twitter!