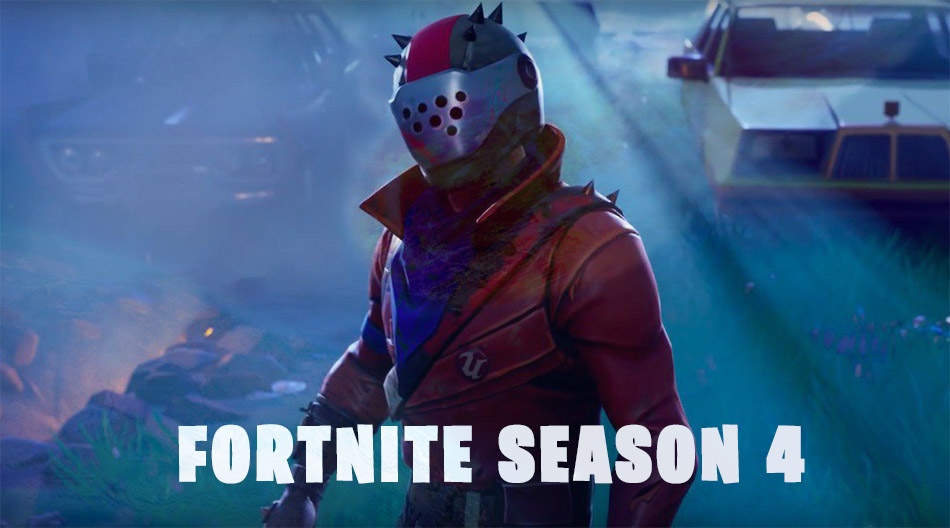 Fortnite Season 4: Map Changes, Meteor Crash Sites, Spray Painting, and More!
The hype train is in full gear once again as Season 4 of Fortnite: Battle Royale is upon us!

Unlike with past seasons, EPIC has been pretty tight-lipped coming into Season 4, not really revealing much about the changes that were coming, and building plenty of speculation with the looming meteor in the sky, along with outposts scattered throughout the map to watch said meteor. As season 3 came to a close, meteorites even began falling from the sky, which could destroy the environment and player structures as they hit the ground. 
This is all we really had to go on, until EPIC released teaser pictures that hinted that Season 4 was going to be superhero themed. That speculation proved correct, as the Season 4 Battlepass has "Fortnite" versions of popular superheroes, such as Hawkeye, Wonder Woman, and Black Panther. Just as last  season had a supplemental theme (Spy) that went along with Space, this season's supplemental theme happens to be graffiti artists, which is absolutely perfect, since Fortnite has released a new spray painting feature that allows you to use your earned emotes as decals you can spray onto walls and floors on the battlefield. 
Fortnite Season 4 Map Changes
Theories as to what might happen to the map were rife leading up to Season 4, and many assumed the extent of it was that Tilted Towers was simply going to get flattened. I don't think anyone expected that there would actually be plentiful overhauls to the entire map, including the massive change to Dusty Depot and the surrounding areas. Now dubbed Dusty Divot, the area has become a huge crater / meteor investigation site, full of anti-gravity crystals and the wreckage of the old Dusty Depot. 
Other intriguing changes to the map include an evil villain "base" on the mountains outside of Snobby Shores, an entirely new POI in the northeast called Risky Reels, new additions to Moisty Mire, a nightclub in "Yonder Yard" Northeast of Flush Factory, and changes to the raceway area in the far East. Small craters also dot the map now, and even Tilted wasn't entirely spared. The center buildings have been totaled. 
The most interesting aspect of the new map however is the central crater where Dusty Depot once stood. This area was notorious for being somewhat of a boring "no-man's-land" in the original map, and there have been no improvements to it since Fortnite was released last fall. Even when the Lunar New Year shrines popped up over the map, none were added to this area.
From a tactical standpoint, there's nothing wrong with wide, open fields. There are still plenty of them in Fortnite. However, when you look at the variance in battles you can have in the game, it's clear that the more dynamic an area is, the more possibilities that exist for cool, interesting battles. Dusty was pretty much always the same. If you had to cross through  this area, you pretty much always ran the risk of being picked off from afar. If the circle was on Dusty, conversely, someone would always take the top of the hangers, resulting in a very difficult push for anyone trying to take control of the area. 
That was pretty much the extent of how situations played out in this area, until now. The massive crater fills virtually the entire area west of Retail Row, in between Salty Springs, and where Dusty once stood. It is deep, has many different cliffs and outcroppings, and gives people camping on the "chimney mountain" even more of a dynamic advantage, because this mountain overlooks the entire crater. With the addition of the anti-gravity stones, the crater has become to new hot spot and will surely create some awesome battles.

We have to say RIP to the original factories, however. The meteor wiped them out completely.
Spray Painting and Emote Wheel
I think everyone could agree that the gestures and dances were far superior to the "emotes," despite EPIC releasing a ton between Season 2 and 4. They definitely took notice of this, and rather than scrapping them altogether, came up with the ingenious idea of "spray painting" with them on the battlefield. You also have access to your entire emote library this season, so you don't have to worry about being limited to just a few of your favorites. This makes earning emotes in the Battlepass far more meaningful and useful. You can spray paint on floors and walls, including ones you build yourself!
Secret Bases and Green Screens
The updated map includes a bunch of new cool additions that aren't as obvious as a giant crater with anti-gravity crystals. It's worth exploring all over to see just how much has changed. From the look of things, there's certainly been some updates to other classic POIs as well as the addition of Risky Reels, a Hollywood set-themed locale, as well as a new evil villain hideout / base in the West near Snobby, and a "Hero" HQ in the far East near the Racetrack, that includes a bunker built into the side of the cliff face, which is a new concept we haven't seen from Fortnite yet.
There are also functional green screens littered throughout the map now that will make recording dances and emotes for streamers and content creators that much easier. From what I've uncovered so far, there are at least two places you can find them: in Risky Reels, and the new structures found in Moisty Mire. The entire concept of a "movie set" theme to accompany the meteor and superheroes adds an incredible dynamic that no one saw coming. The fact that the theme made its way onto the map locations makes this season all the more better.
Other Season 4 Surprises
As if this wasn't enough, Season 4 came with a few more surprises that no one really saw coming. The crossbow has been vaulted, which some believe is unfortunate but the majority of the player base agrees was a much-needed change. Some of the new Battlepass skins come with unlockable "styles" that require you to do the weekly challenges, which is a great new incentive to complete the quests. Weapon animations have been improved, and the legendary "Orange Shirt" kid had his dance included in the game for free after popular demand.
The general consensus so far for Season 4 is that EPIC has hit another home run. It is obvious that they have the Battle Royale genre on lock going into the summer, and that they don't plan on slowing down with content updates any time soon. In fact, I wouldn't be surprised if the rate of content and map changes increase after this.
Looking for more information? don't forget to check out the Fortnite Season 4 patch notes.
Fortnite Ultimate Weapons Guide (Updates Coming Soon)