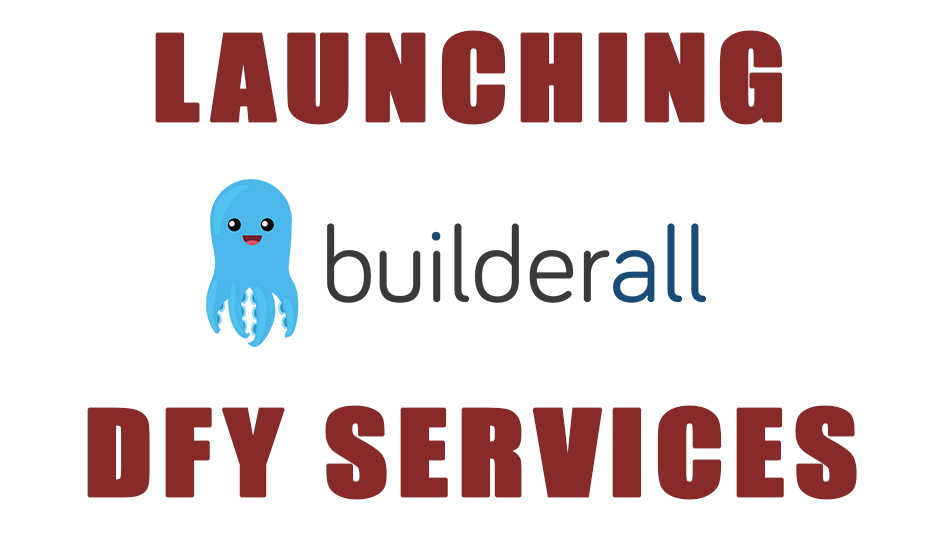 LAUNCHING: DFY BuilderAll Services (Funnels, Autoresponders, Domains, Videos, and more!)
Hey guys, I know some of you have been requesting this, and it's in demand right now, so we're announcing that we are now taking on BuilderAll clients!
What is BuilderAll? Everything You Need to Know
I'm sure you've heard about Clickfunnels if you're into the online marketing scene. You've also most likely dealt with web builders such as WordPress, Weebly, Joomla, and Wix before as well. BuilderAll is a cloud-based web builder platform that combines most of the best features from Clickfunnels, Wix, and WordPress, into one seamless software. This was done because, as most entrepreneurs and marketers know, the sheer amount of different software that's needed in order to get your business running borderlines on absurd. Clickfunnels attempted to fix this problem, but BuilderAll is taking it all one step further.

It's a pain having to switch between one tool for SEO, another for email, another for your websites, one for videos and marketing, and still another for funnels. The price of all this adds up fast, and is quite time consuming.
When I first ran into BuilderAll, I was skeptical. If it was able to deliver what it was promising, it would be a veritable Clickfunnels killer. A tool that's finally got everything in one place? They basically combined all aspects and tools of digital marketing and running an online business and stuffed them into one platform.

This is just some of what BuilderAll allows you to do:
Collect and manage email leads

Send unlimited emails, period

Build high-quality websites (something Clickfunnels can't do!)

Create high-converting sales pages that have A/B split testing

Create membership sites from the ground up, no need to fuss with WordPress plugins

Sales funnels that integrate with the in-house autoresponder


Create quick and effective videos that can even pop up

Traffic metrics

The ONLY service like it in the game that let's you use heat maps

What's crazy is, this is only the start of BuilderAll's functionality. When I say, it does it all, that's not some kind of marketing gimmick. That's exactly the truth. 
A Need For Expert BuilderAll Services
However, the software is new, their HQ is in another country, and support can only do so much. There simply aren't too many designers out there who know the software. I happened to be called upon by a couple different agencies to help their clients with BuilderAll troubleshooting at its release, and so I picked up experience right out of the gate. Needless to say, I took to the software and decided to jump in myself. While I don't have any sites at present built with it, I use my access to the software to learn all of its tools inside and out.
Needless to say, I have a relatively strong grasp on just about all BuilderAll functionality, and have already helped over a dozen marketers build funnels, setup their autoresponders, and launch their websites with this thing.
This is just an announcement for you guys that I am adding BuilderAll to the list of services I offer here. A formal sales page and coaching platform will be coming soon, but for now if you are interested in general BuilderAll services, just head on over to our general service request page and get in touch with me there. We can discuss your needs and get you moving in the right direction.
The Power of BuilderAll: A True All-in-One System
There's not much you can't do with this software. Now, the same can easily be said about WordPress if you know what you are doing. Hell, you can even push Clickfunnels to the limit and create a workable website with it. But do you know what kind of pain it would be to make a WordPress website do everything BuilderAll can do? I don't even want to think about it, and I'm a WordPress veteran who owns numerous premium plugins, suites, marketing software platforms, and themes. I could imagine what it would be like starting without all of that.
The bottom line is, you're not going to find all of this in one place anywhere else, especially for the price. Not to mention the insane affiliate platform it has.
So what else can this thing do?
Over 1,000 proven templates for your pages.

White label option for reselling the entire system to clients

Fully mobile ready, fluid designs.

Unlimited domains (something GreenGeeks and a few other reputable webhosts do offer, but very rare indeed for the price)

Responsive email templates

Facebook integration with a lead capture function (unheard of)

Easily build your own iOS/Android apps from your pages (!)

Unlimited browser push notifications (which Clickfunnels only just launched a few months ago)

Automate your entire sales system from start to finish

Create Unlimited Email lists

WYSIWYG design tools just like Clickfunnels, Profit Builder, etc.
It's actually a little over the top. The program offers a ton of features, but with all those features comes MASS CONFUSION. If you thought hooking up your domain or starting your autoresponder was an arduous task in Clickfunnels, just wait. BuilderAll gives you so many options and so much functionality that overload is almost a given.
Don't panic. Just let me handle it.
Need BuilderAll services? Even something as small as adding a domain or styling a button? I've got you. Just head on over to the service request page and tell me your troubles. We'll get in touch, do virtual lunch, and all your headaches will go away (well most of them anyway!)
Have any juicy BuilderAll tips? Drop them in the comment section!