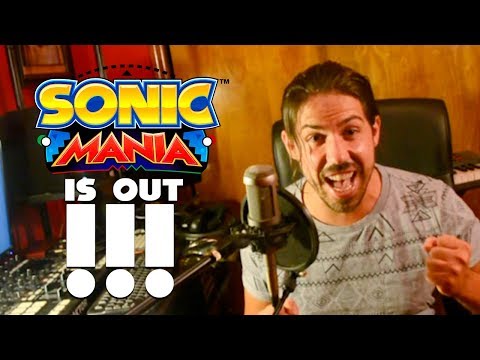 SONIC MANIA IS OUT!!!
Tee Lopes did an amazing Job on Sonic Mania – the soundtrack is an absolute masterpiece. This video features his words on the Sonic Mania release:
It's been a long year full of ups and downs but we've done it it's out the dream is real so let me talk about the experience a little bit as many of you guys know composing for an official Sonic game has been a dream of mine for many many years manifested through remixes on YouTube fan projects in Sonic inspires games like we go to West's major magnet if you haven't played it go ahead and play pretty good game working on this game carrying on the torch had been the honor of my life with so many outstanding musicians out there I feel incredibly lucky to be picked to carries you know his project and with inspiration in tons of respect for the father was unattended thank you for making such great sounds throughout years and filling my childhood with such great memories it was a crazy experience to this game being built from the ground up and watch my unspeakably talented colleagues put their skills to work to create a game that's already such a huge success with both video game media outlets and more importantly with fans all over the world fans who I personally would love to thank from the bottom of my heart for being so supportive and for believing in my capacities all the way through even when only a couple of sonic songs were available a few months back sonic mania soundtrack is something that I could all my love into and I sincerely hope that it takes many of you back to your childhood as well as I hope new fans can enjoy it too you guys were incredible to me and I promise you that I'll always give it my best in all future titles of any brands that I might work on.
I would also like to thank my colleagues and friends within the team first and foremost I'd like to thank level design director Jared castle and art director Tom fry ever go to West who helped put me on the map who would have thought four years ago that we'd be saying today that we made this happen it's kill-crazy in my head so thank you so much guys and thank you Greg Dawson for all that you did for me if the pleasure to call your brother's question why I had him Simon Tommy you guys are simply genius and wave files as well it's great hanging out with you every time we're together and I need to say Christian was a great source of ideas and direction for me personally it was a huge help so thank you pushing for that thank you guys it was great working with you I would also like to thank Paul beard media carvalho Karen gates Michael balm for the excellent word read play kinds of bridges thank you all so easy son Lola she died she Aaron Webber being in everyone who made this game possible really James done great work on the sound design thank you to my girlfriend Vanessa for hearing the soundtrack a thousand million times without complaints there was a lovely of you of thank you for the love and support that we expend special thanks of course to fall call young from sound to break Malaysia for being such a great friend so patient so knowledgeable for professional you were potential to the success of this soundtrack thank you man so much I'm dying for it again I probably forgot some people I'm sorry to get with the case but you know so that the guy thank you for watching this video thanks again for all the love and support I hope you enjoy the game in stay tuned because there are big things on the horizon and I can't wait to see what the future holds you guys are the best much love.