Must Have SEO Marketing Tools For Every Entrepreneur
When it comes to staying ahead of the game and making your content stand out, SEO marketing tools have that added punch entrepreneurs need. The web is more saturated than ever, and every day it gets harder and harder to rank content through traditional means (though you can give yourself an advantage if you follow closely to what Google wants).This is where having the right SEO tool can make all the difference.

Internet marketing has exploded over the past few years, leaving some business owners and entrepreneurs dead in the water. Unless you happen to be in a small, low-competition niche, you can bet that hundreds of people are doing exactly what you are doing, every day. And there's a good chance many of them are doing it better than you are. Maybe they have more time, maybe they have a better camera or they are more charismatic, or had a bigger following to start with. Maybe they have a PhD so their name carries more weight. Maybe they own a brick-and-mortor business and you're only digital. I get it, we're in the same boat. It's a battlefield out there for entrepreneurs and business owners, but the right tools can level the playing field quite a bit. 
We'll be taking a look at some of the must have SEO marketing tools, and how they can dramatically affect your profits and ranking potential.
All in One SEO – Best Blogging Tool
For my team and I, the undisputed blogging and SEO king for WordPress. Some marketers swear by Yoast, but there are several reasons why All in One SEO comes out on top.
First off, and perhaps most importantly, All in One SEO is simply coded better. It adds less to the WordPress backend and does not slow down builds nearly as much as Yoast does, and that's even with all of its additions active. The other big draw is that it has a better interface. Less fluff options and better on-page options. Some prefer the system Yoast uses where it warns you about not having a focus keyword, but if you don't already know the basic format of a blog post, you need to take a step back and work on that before getting into marketing.
So what does All in One SEO do exactly? Among other things, it builds your sitemap, controls your robots.txt file, determines how your site displays URLs, integrates your social media profiles, and also pushes data to social media sites like Facebook and Twitter, essentially letting them know how to interpret the data on your website. This is what you need if you want social media sites to properly display your blog articles and products.
All in One SEO also gives you a litany of options on each page of your blog. You can choose default images, your search engine descriptions, and create custom titles for your social media posts. In other words, it gives you complete control over how your shareable content gets interpreted by Google and the heavy hitting social media sites. This is nothing short of essential if you are serious about blogging or any kind of content marketing.
The best part of All in One SEO is that all of their essential features are included in the FREE version. The Pro version is really only for a few additional functions in regards to WooCommerce, and pro support if you need it. However, because the plugin is super simple, it's unlikely you would need support anyway. The plugin also has support forums and plenty of documentation all over the web, so if there is something you need help with, you can likely find what you need for free.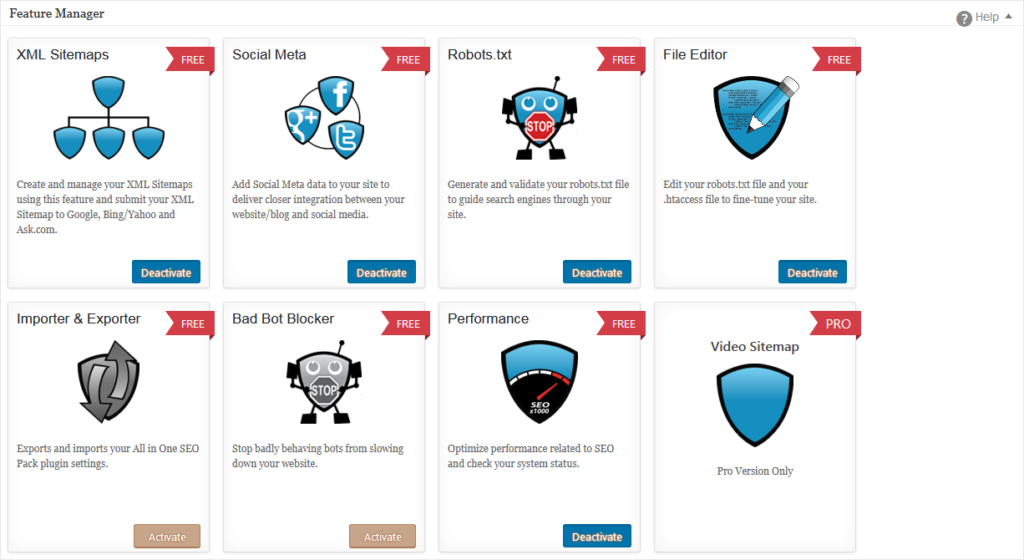 This was almost a toss up. Instabuilder 2.0 is perhaps one of the best WordPress builders on the market right now, but it has extremely stiff competition. WP Profit Builder and Divi come to mind, both of which are absolutely amazing suites. I wholeheartedly endorse Profit Builder, and offer services for anyone looking to build a funnel or website with it, which you can find here on the Profit Builder part of Entrepreneur Launchpad.
That being said, Instabuilder does some things that Profit Builder doesn't do, and does a few things it does do even better. Profit Builder has more of an emphasis on funnels, where as Divi and other builders just don't have enough features to be considered top tier. Keep in mind, any good WordPress builder these days has to compete with the likes of BuilderAll and Clickfunnels, and in that regard, Divi just doesn't have enough oomph by itself.
Instabuilder on the other hand, is a behemoth platform that has the power, the features, and a somewhat better coded back-end than many comparable platforms. Some of the features it has that many other platforms don't include its graphics packs, built-in image editor, advanced analytics, split testing, built-in "scarcity" functionality, one of the best social sharing widgets, and even a save-to-HTML function, so you can export entire pages you make in the builder to raw code that you can use…without WordPress anytime. All of that, plus optimized pages, a crazy powerful page builder (right up there with Profit Builder and Clickfunnels), and solid autoresponder integration means Instabuilder can do just about anything you ask it to, all with minimal hassle.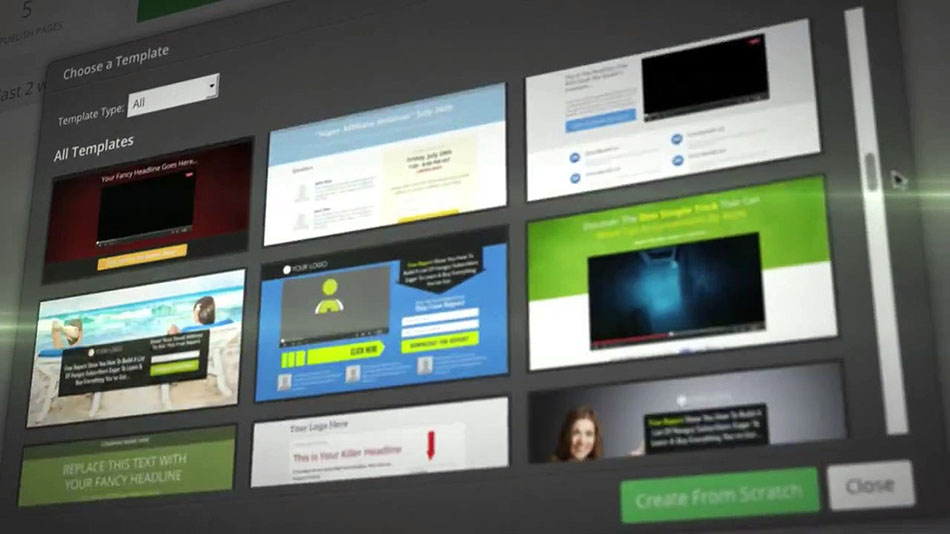 As an SEO-orientated marketer, having the power to pop up work-horse WordPress sites in a flash, replete with sales funnels, tracking, autoresponder linkage, and optimized SEO, is a must these days. Keep in mind too that it is self-hosted, unlike Clickfunnels and some of these newer platforms. That means there's no chance the platform will up and vanish one day, leaving you without a website. The ball is completely in your court. The other advantage it has over Clickfunnels is that because it is on WordPress, you can use all of your favorite bad ass marketing and SEO plugins right alongside of this thing. When you put the versatility of Worpdress plugins alongside a beast like Instabuilder, anybody can get modest results.
Not much to say about ProfitFox other than it is simply a solid piece of software that doesn't really have any competitors that I can think of. It does what it does and performs admirably.
The gist of ProfitFox is that it maximizes sales potential by displaying offers relevant to your customer.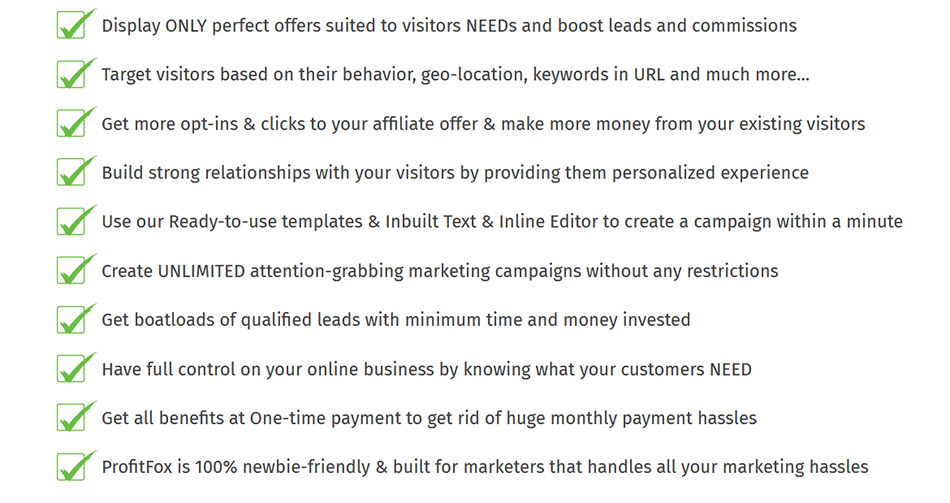 Once you get deep into the marketing world, you begin to realize how much customer trust and brand image means for getting a sale. Above and beyond this, you don't want to repeatedly show stale content or offers to your visitors. Bounce rates increase dramatically when people see the same tired ad, for example. And we all know how Google takes bounce rate into consideration when it ranks your website. If you want to increase your SEO and give your website authority and "staying power," you need a means of delivering content in an intelligent way. ProfitFox is one of those "ah ha" kinds of plugins that you don't realize you need until you see it. Then everything makes sense.
As you guys are probably aware of by now, I'm not the biggest fan of pop up lead capture. I think it is one of the most spammy, annoying aspects of current Internet marketing. Give me ten ads in one YouTube video any day, or side bar ads a mile long. Just don't pop up a massive square in front of what I'm trying to read, especially on mobile.
There are right and wrong ways to go about lead capturing. I cover many of them in this article about building your Email List. Don't think you have to resort to pop ups.
That being said, if you're going to utilize any form of standard industry lead capture, do yourself a massive favor and check out PageHat. This software basically does one thing, but it does it really well: creating full-screen, elegant lead capture splash pages. You can also make use of their call-to-action function as well, which is also a really cool bonus.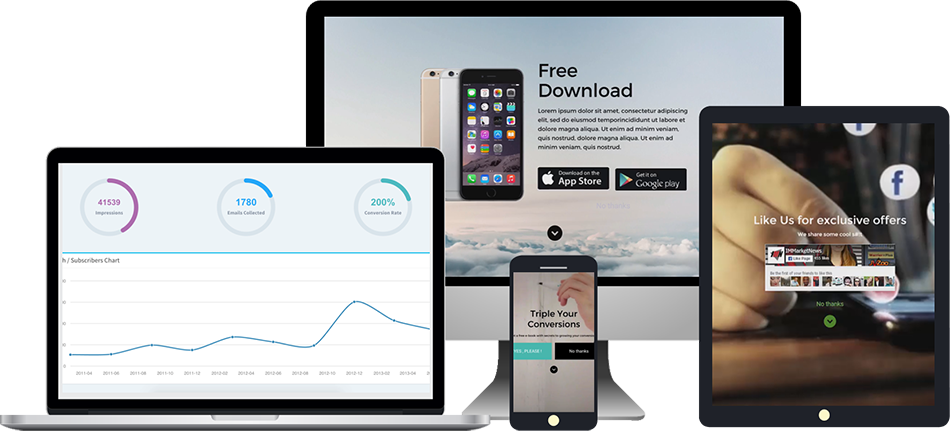 I own PageHat and already know several ways I intend to use it coming up in 2018. It's cheap, it works like a charm, and it's powerful. Can its effects be replicated by other software? Sure. If you're savvy, you can build pages like these in Profit Builder, for example. But the ease of use as a "pop up" with the elegantly coded "down" slider arrow is sublime. Not too many other plugins on the market do this and do it so well. Snag this thing before the price goes up.
There are a TON of social media automation plugins and tools out there right now. They range from super expensive to dirt cheap, and from highly effective to absolute garbage. One thing is certain though: if you run a digital agency, a complex online business, or several online blogs or stores, you absolutely need social media automation of some kind, unless you plan on hiring a fleet of social media marketers.
The question is, how do you choose the right automation for your business? Do you want a simple auto-posting and scheduling service? Do you want bots for your Facebook messenger? Do you want a full-scale battleship software that conjures hundreds of posts from the abyss and syndicates them to ten of your social media accounts at all hours of the day? It's really a personal choice that depends on your business model. Automation is not a replacement for real engagement. What it can do, however, is supplement certain parts of your social media presence and give your follows and fans quality content while you are away or busy. It's a win-win.
That's where Tweet Machine comes in. I personally think Twitter is one of the best social media platforms for automation in small doses. This is because it is both a personal and impersonal platform. Users go on Twitter to peer into the lives and daily goings-on of their favorites Internet personalities, stars, and businesses, but they also go on Twitter to find news, recipes, anecdotes, popular videos, trending topics, and the like. Tweet Machine is an amazing tool that allows you to syndicate niche content on autopilot. Simple, effective, and it has the added benefit of being fully customization. You can send out custom, personalized Tweets, tweets with URLS, images, and hashtags, and even share blog articles from RSS feeds at certain intervals throughout the day.
The one drawback (or benefit, depending on how you look at it), is that Tweet Machine is a WordPress plugin, which means it requires a functional WordPress blog to run on, and uses some server bandwidth via a cron job, to make the automation work. Some may look at this as a disadvantage, because what if you don't have a WordPress based website? You're out of luck, then. But for all of us who do have WordPress platforms for our businesses or side projects, Tweet Machine works perfectly. Highly recommended.
SEO is an extremely important part of any business these days. Hence the cavalcade of tools, plugins, services, and mentorships out there dedicated solely to it. Some of these products and services, albeit powerful, can range anywhere from hundreds to even thousands of dollars. However, if you know what you're doing, the best SEO tool out there is free to anyone willing to learn it.
Google's Keyword Planner gets the nod as my favorite SEO research tool for many reasons. Perhaps the best reason is that it is a Google product. Inside of the Keyword Planner, Google will literally tell you where a certain keyword ranks, and how much it would cost to rank it higher in accordance with a certain landing page or blog post on your website. Even crazier, it will give you the best keywords for a certain page you show it, and even drill down to dozens of long-tail keywords. It will even let you know how high the competition is for a certain keyword or set of keywords, so you don't have to gamble trying to figure out the best ones.
The primary reason for using this thing is to find long-tail keywords. This is absolutely golden. There are a million and one convoluted services out there for SEO, all making audacious claims as to what they can deliver for you. Some of these high end services even work, too. But one of the easiest tactics in SEO is simply learning to use long-tail keywords in your blog titles, headers, and first paragraph. The Keyword Planner basically hands you the right keywords to use for a specific blog post, which means you have an insider edge as to what Google wants and expects as you create content.
It doesn't get much simpler than that, folks. A half hour in the Keyword Planner means you can strategize your blog posts and other content for the rest of the week. You'll know which keywords to use and where, and if you are into using Google Adwords, it'll even set up a campaign for you based on your low-competition, long-tail keywords. Basically a monkey could do it at this point. Find one, pay it in bananas, and get moving.
I like to call this my secret weapon. If you're ever stuck on the way you should form your Facebook ads, or if you simply want to be a student of the craft, look no further. Ad Espresso gathers examples of real Facebook ads, and allows you to access them through searching. You can even see the landing page that the corresponding ads go to, as well as the full text of the ad. This is market research at its finest. Just about anything you would ever want to know in regards to what's making waves in the Facebook advertising scene is right at your fingertips. The fact that you can even see the landing pages and funnel hack them as well, basically means that you should never want for ideas.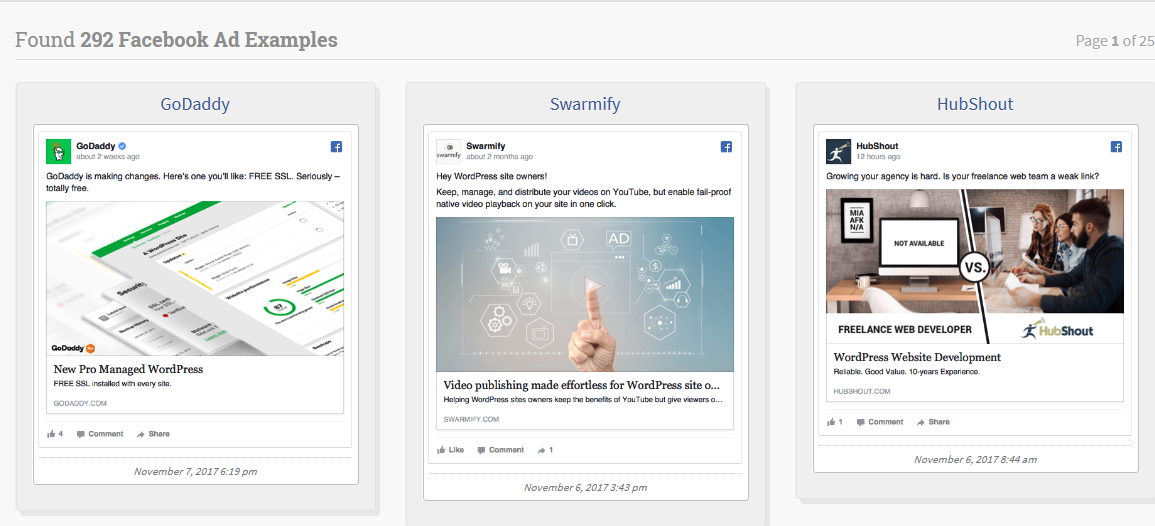 And yes, you can even see metrics. In terms of sheer power and possibility, this may be one of the best SEO tools I'm featuring. Half the difficulty in selling a product is in the traffic side of things. You can have an awesome product and a great sales page, but if you're not getting any traffic, you might as well be dead in the water. There are guaranteed ways to boost your SEO rank, but that is going to take a while, and doesn't mean you're necessarily going to get traffic when you want it. Facebook ads solve this problem.
Craft a good ad, and boom, traffic. Some marketers liken it to turning on a faucet. Well, I'll tell you this: if your ad isn't crafted properly, your faucet isn't going to be much more than an eye-dropper. To get a good ad campaign going, you need to do what works. The best way to do that? Learn from the pros. It's that simple.
Like anything else, Facebook ads (advertising in general) take time to master, if you plan on making them from scratch from your own ideas and designs. It is far easier, especially when you are first starting out, to grab ideas from what's working out there and adapt it to your own product or service. Saves time in split testing, saves money, saves aggravation. It's just the better way to go, unless you already kill it with ads and whatever you think up gets conversions. That isn't most people. Hence, Ad Espresso gets my nod as the best research tool for the market.
This small but potent weapon in the marketer arsenal is basically a glorified heatmap. In other words, the Smartlook software enables you to track the movements, or Design Flow, of a webpage or website. The benefit of this is, if there is something in the design of your page that is markedly turning people away, you can plainly see it or make corrections. Likewise, you can see exactly what's working and capitalize on it. Heatmaps are especially useful on large sales pages for big products or services, because you can track exactly how potential customers digest your content.
Do they watch you video first, or do they scroll to the bottom to check out the price? Do they read every line of text or only skim the headers? Does the third Buy Now button convert better than the Second? These are all design-related questions that Smartlook is potentially able to answer. It's a small piece of software but worth it.
Crafting Your SEO Battle-station
It's important to only invest in what you're going to use. One of the biggest problems marketers and entrepreneurs have is that they are often pulled in too many directions. Discard anything that isn't serving you and your business. Be cutthroat about it. Just because "everyone is using it" or conventional wisdom says that it's useful, doesn't mean you have to or should keep it around for a rainy day. Clear out the clutter, gather exactly the resources you need, and strategize from there.
This is important not just because you should always strive for focus in your business and goals, but the more things you are trying to juggle, the more apt you are to fall prey to brain fog, fatigue, and "aimless wandering." By that, I mean the non-work we all slip into from time to time when we are drained, such as lingering on social media for too long, dragging your feet before starting an important task, or taking just a bit too long getting that cup of coffee. The less stuff floating around to think about, better. So analyze what you need, and discard the rest.
Part of the reason why these tools all made the list is because I find that they help me streamline my work process. Whenever a tool saves you time and hassle, it's usually a winner in my book. Time is one of most important assets, so tools that give us more of that asset are worth their weight in gold. A good tool should both solve problems and free up your time. Any tool that takes more time to use than the task would have without it, regardless of the result, becomes problematic in my eyes. The exception, for example, would be a tool like Clickfunnels, which most would admit is needlessly complex and takes time to accomplish certain tasks in, yet is worth it because of the return on investment that usually comes with getting it running.
The bottom line is though, think about time when deciding what tools you need. If it saves you time and solves problems, then adopt it into your workflow. This is how you construct a "battle-station" that works for you instead of against you. A must-have marketing tool is something you can go to in a pinch and get that automatic assurance that you know you're about to get something done. If a tool isn't serving you to that degree, retool, discard, and look into something else. All of the software and services I listed here are an excellent start if you're looking to fill your digital tool chest with "equipment" that serves you and gets the job done.
Have any other favorites that didn't make the list? Leave us a comment!